eKare will be exhibiting at the annual SAWC Spring Conference in Phoenix, AZ taking place April 6-10th, 2022. Stop by booth 827 to learn about the latest advanced wound assessment technologies. Product experts will be conducting demos on our inSight 3D wound assessment technology, 360° wound assessment, and eKare Gauss.  eKare's inSight platform empowers clinicians to capture precise 3D wound measurements in three simple steps: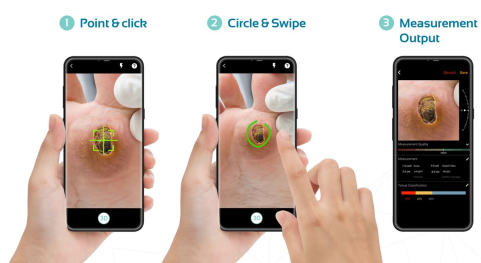 View our brochure or contact us to learn more!

Wound Healing Foundation Sponsorship
For the fourth year in a row, eKare will be sponsoring the Wound Healing Foundation scholarships at SAWC. The scholarships support young scholars who are making important contributions to the wound care industry. The eKare team is passionate about continued advancement of technologies in the wound care industry and believes that supporting the generations to come is critical to innovation. To that end, a hearty congratulations to the recipients of this years scholarships!
Register at a discounted rate!
At eKare, we pride ourselves in staying at the forefront of scientific breakthroughs and making them accessible to our community. We are pleased to collaborate with SAWC to bring you exclusive savings for the upcoming symposium in Phoenix, AZ. For a limited time, use the code "EKARE" to register for just $249! Click here to register.