Best Practices to Streamline Process
es
and Reduce Site Burden
by Raphael Yaakov
If a picture is worth a thousand words, then an adjudicated image is invaluable! Traditionally, wound image reviews were conducted locally at the site level by lead principal investigator (PI), medical monitor, or clinical research associates (CRA) before the advent of independent reviewers, committees, and imaging core labs. In recent years, there has been an increased emphasis on formalizing process for wound image assessment, central image review, and endpoint adjudication. Advancements in digital imaging and cloud computing have paved the way forward for centralized image review, however, not without adding complications.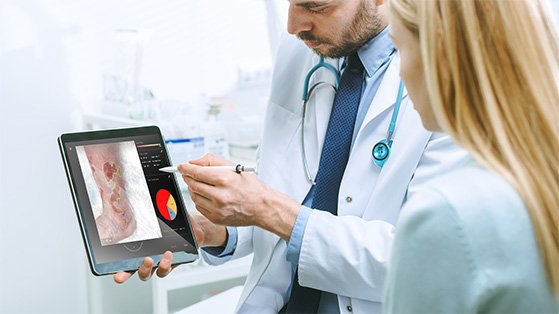 While FDA's guidance around process standards has provided some clarity, technical considerations and best practices for study-specific imaging workflow remain a topic for discussion. Each clinical protocol, varying in design and objectives, presents its unique set of needs and challenges. For instance, complex wounds, ulcers with unclear boundaries, or appearance of wound bed after application of graft or another investigational product (IP), may contribute to intra-reader and inter-reader variation.  
Variations may lead to discordance, which may inadvertently result in indecisiveness, misclassification, or inaccurate declaration. In such cases, use of additional reviewers or a review committee may be a necessity. Most large phase II and III trials will require an independent central review (ICR) for regulatory approval, but it may be unnecessary and overly burdensome in early phase or pilot studies.  
There is no single one-size fit all solution, however, standardization is a hallmark of quality and should serve as a guiding principle for study specific imagining procedures. Without a single defined set of processes and standards, clinical study teams are faced with critical decisions on how to how to best tackle clinical and technical processes. Potential areas for best practices can be grouped into 4 key domains:  
Modality

– An imaging device or application should be clinically validated and must meet all the appropriate regulatory and compliance standards. Study specific standards should clearly indicate requirement for FDA registration, CE mark, HIPAA/GDPR, and 21 CFR Part 11 compliance. Device standards, calibration, and software releases/updates should also be referenced.   

 

Workflow

–

Process workflow and considerations on user roles, privileges, and permissions are equally important.

The importance of complete and timely documentation and review is also paramount. Streamlined processes won't only reduce administrative and site burden, but also promote effective collaboration and lower the risk of potential pitfalls. Study imaging manual serve an important role in defining study specific workflow and procedures.

Analysis

– Wound image analysis should be based on clearly defined criteria. A decision tree may help reviewers systematically weigh and assess parameters. Experience and level of training are also important elements for improving quality and reducing variability. 

 

Quality Control

– Standardization drives effective decision making. Uniform criteria and proper training for image acquisition, workflow, and analysis increase the consistency and quality of the data being collected. Data should be archived or stored in encrypted HIPAA/GDPR compliant environment to create adequate audit trails for verification. 

 
If you are looking for additional resources or interested in learning more, speak with a technical specialist at eKare today.
About the Author
Raphael Yaakov serves as the VP of Clinical Development at eKare, Inc.. His experience spans across public health, clinical research, and technology. He has helped support key initiatives in patient education programs, global epidemiological surveillance to managing phase I-IV multinational drug and device studies. He completed his undergraduate course work in life sciences at the Pennsylvania State University and holds a MS with a concentration in pharmacoeconomics and outcomes research from University of the Sciences in Philadelphia.
About eKare  
eKare is a physician-led digital health and AI company committed to providing unparalleled solutions for advanced wound imaging and data analytics. With combined 50+ years of experience in clinical research, the eKare team has supported over 150+ clinical studies across the globe. As a trusted industry partner, eKare continues to advance wound care technology to improve care delivery and patient outcomes.