eKare Newsletter: November 2021 Updates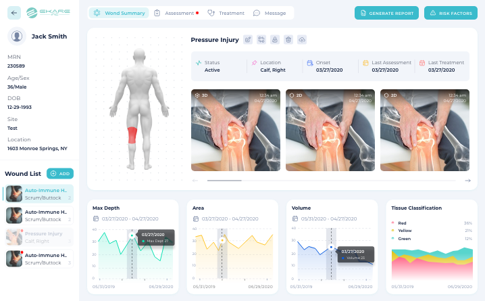 At eKare, we strive to continuously innovate to meet customer needs and provide the most advanced digital wound care solutions. Here are some updates you can be on the lookout for:
New & improved web portal Q12022
inSight on iPad mini6  Q42021
4x Depth Resolution Q42021
We're actively expanding our footprint and partnering with organizations to bring advanced wound care solutions around the world. In case you missed it:
An End-to-End AI Ecosystem
eKare Gauss is a powerful data tool that allows you to label data, conduct automatic AI model selection and deploy your model in the cloud. With access to over 1,000,000 wound images, measurements and 3D scans, eKare Gauss provides the most advance database for your AI needs.
eKare is pleased to host Mark Swerdlow, a rising 4th year medical student at USC Keck School of Medicine, as a Clinical Fellow. Mark has a background in electrical engineering and bioimaging. He completed a B.S. (bio-electronics/bio-imaging) and M.S. (signal processing) from Stanford University. He is also the inventor of a smartphone-based foot screening system for patients at risk of developing diabetic foot wounds. He joins an interdisciplinary team working on complex problems and datasets in wound care to advance understanding of wound care and improve patient care by providing meaningful clinical insights.
Resource Center Featured Content
eKare, Inc. 3040 Williams Dr #610, Fairfax, VA 22031
+1 (844) 443-5273 | info@ekareinc.com
Copyright © 2022 eKare Inc., All rights reserved.