eKare Newsletter: February 2022 Updates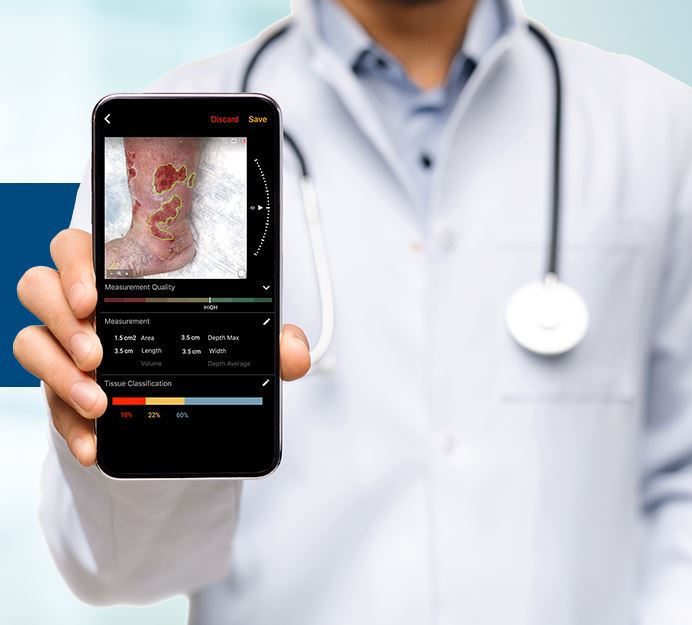 eKare has quite a bit in store for this year, including: new product developments to enhance the user experience; in-person tradeshow representation; and continued expansion into new global markets.  Read more about our plans below, and as always, be sure sure to check out our website for the latest information.
We are excited to announce that inSight is now globally available on Android devices! inSight users can now use their Android phone to precisely capture 3D wound measurements.  Additional features include in-app notifications & messaging, along with data capture customization.
Capture 3D Wound Measurements on iPhone
3D wound measurements can now be conveniently captured on the iPhone with eKare's inSight app. In a matter of seconds,  inSight will measure the length, width, area, depth and volume of a wound without the need of a reference marker – eliminating potential infection risk, skin tearing and challenges with proper marker placement that may compromise accurate data capture.
Don't miss us at these upcoming shows
Our team looks forward to exhibiting at the following tradeshows in the next couple of months. Be sure to stop by our booth for product demos and to learn about our latest wound imaging and measuring capabilities!
SAWC: April 6-10, 2022
Booth # 827
APWCA: February 24 – 27, 2022
Booth # 34
eKare was recently recognized among the most innovative companies of the future by Virginia Economic Review. Since the early start-up days, eKare has stayed at the forefront of innovation, delivering breakthrough technology for unmet needs in wound care. Read the full article (page 74) on how eKare is reshaping digital health across the globe.
eKare, Inc. 3040 Williams Dr #610, Fairfax, VA 22031
+1 (844) 443-5273 | info@ekareinc.com
Copyright © 2022 eKare Inc., All rights reserved.