Latest news from eKare - November 2022
inSight CR New Features
inSight for Clinical Research (inSight CR) now features an updated workflow for independent blinded assessment. This new release (v2.0) adds another layer of security, and optimizes clinical trial image review and the adjudication process. It restricts access with tightly controlled user permissions, safeguarding privacy and online query management. This latest update enables real-time review and reporting for concurrence between adjudicators.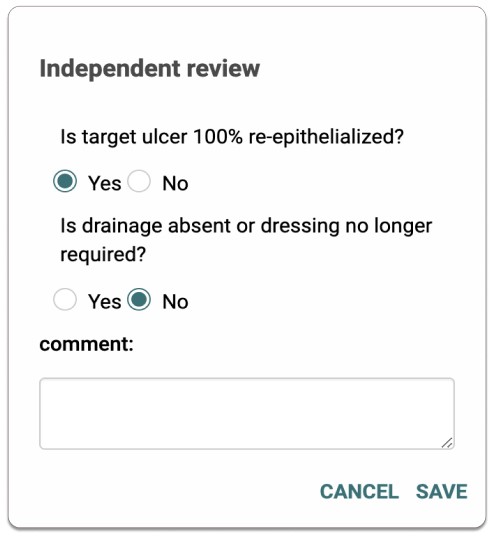 Did you know...
Clinicians can conveniently select different zoom options to fully image large wounds, as well as zoom in on small wounds, then immediately access images and measurements via the patient summary.  See it in action in the video below, and be sure to check out more on our advanced wound imaging capabilities.
Selecting the Right Imaging Partner
Conducting a clinical trial consists of many moving parts and finding the right technology partners can be critical for a successful trial. In this new blog post, we identify four important considerations when selecting an imaging partner for your next trial.
eKare looks forward to exhibiting at the Medica Conference taking place November 14-17 in Düsseldorf, Germany! Be sure to visit us in Hall 16/C 20 to view demos of our inSight digital wound measurement technology.
eKare's Chief Medical Officer, Dr. Kyle Wu looks forward to speaking at this year's Advanced Wound Care Summit Europe on December 13-14 in Berlin. Register your place using the discount code 'SPEAK10': https://hubs.ly/Q01nFjzJ0
Here's our team at the Wild on Wounds Conference in beautiful Hollywood, FL. Booth visitors got to see live demos of our inSight app and its ability to conveniently capture precise wound images and measurements without needing a calibration sticker. Thanks to everyone who stopped by our booth!
eKare, Inc. 3040 Williams Dr #610, Fairfax, VA 22031
+1 (844) 443-5273 | info@ekareinc.com
Copyright © 2022 eKare Inc., All rights reserved.